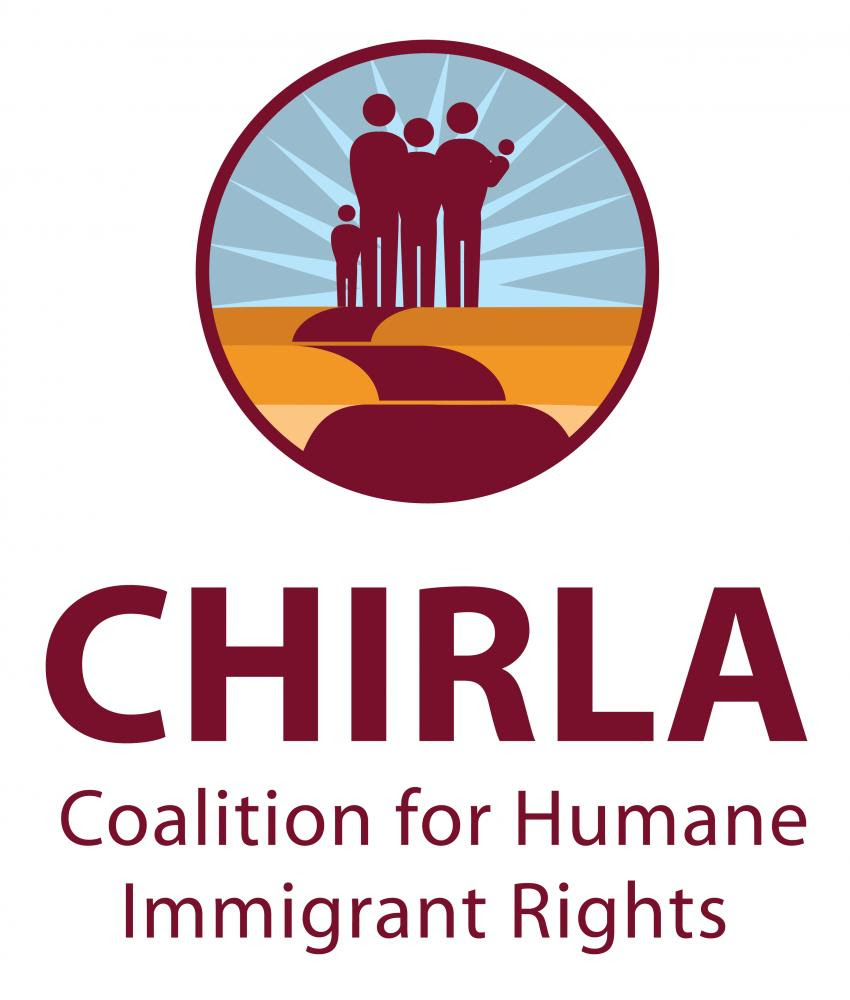 COALITION FOR HUMANE IMMIGRANT RIGHTS
PRESS STATEMENT
FOR IMMEDIATE RELEASE:   January 20, 2021
CHIRLA APPLAUDS BIDEN DAY ONE IMMIGRATION INITIATIVES, PREPARES FOR HARD WORK AHEAD
Day One initiatives prove that fair, inclusive immigration reform is not only possible,
but the morally correct imperative for this nation to address
LOS ANGELES -- The Coalition for Humane Immigrant Rights (CHIRLA), the largest immigrant rights organization in California, cheers the announced immigration initiatives by incoming President Joe Biden on his inauguration, including the U.S. Citizenship Act of 2021 that grants immediate residency for DACA and TPS holders as well as essential agricultural workers, an eight-year path to citizenship for most of 11 million undocumented immigrants, and an end to Trump-era travel bans.
Today, Biden also announced the immediate extension and  strengthening of the Deferred Action for Childhood Arrivals (DACA) program, revocation of Trump immigration enforcement priorities and a moratorium to devise new ones, an end to border wall construction, and explicit inclusion of all immigrants in the census.
"What we have worked toward for decades today looks not only possible, but likely," said Angelica Salas, CHIRLA executive director. "This is our best chance to achieve a just society, fully inclusive of immigrants. I won't say the work will be easy, but today we take new strength from President Biden and Vice President Harris, who as a team have worked hand-in-hand with us for this historic opportunity.
"We are seeing today the result of our hard work in the movement. Our multi-racial coalition, our building of a nationwide majority made this possible."
The Citizenship Act of 2021 forges a path to citizenship that allows undocumented people physically present in the U.S. on Jan. 1, 2021, to apply for green cards after five years if they pass background checks and pay their taxes. Dreamers, TPS (Temporary Protective Status) holders, and immigrant farmworkers who meet requirements could apply for green cards immediately. Immigrants swept up by the deportation machine during the past four years may also return to apply for legalization. After three years, all green card holders who pass additional background checks and demonstrate knowledge of English and U.S. civics could apply to become citizens.
Immigrant families will benefit immensely from this bill becoming the law of the land: It clears backlogs, recapturing unused visas, eliminating long wait times, and increasing per-country visa caps to reunite families. It also eliminates 3- and 10-year bars and supports families by more explicitly including permanent partnerships and eliminating discrimination facing LGBTQ+ families. It also includes the NO BAN Act that prohibits discrimination based on religion and limits presidential authority to issue future bans.
Passage in Congress of this legislation will no doubt be difficult and littered with obstacles. The razor thin majorities that Democrats hold in both houses bode a hard fight, but CHIRLA members and supporters, along with our allies in the movement, are ready to mobilize for support.
In addition, we are encouraged by the measures President Biden took that do not require Congressional approval, including extending and improving the Deferred Action for Childhood Arrivals (DACA) program, ending the Muslim and African ban, and the ending of Trump enforcement priorities. We look forward to seeing the details of implementation, including the promised moratorium on deportations, as much work is required to rebuild what Biden's predecessor destroyed.
"For years, we have pushed for a fair path to citizenship for the 11 million," Salas said. "It appears this is the beginning of this path. We look forward to seeing the details for qualification, but this initiative shows a willingness to work in partnership with immigrants to find a sturdy, far-reaching solution for a system that too long has been broken. It's truly a new day for immigrants."